Cowichan Valley Wine Tours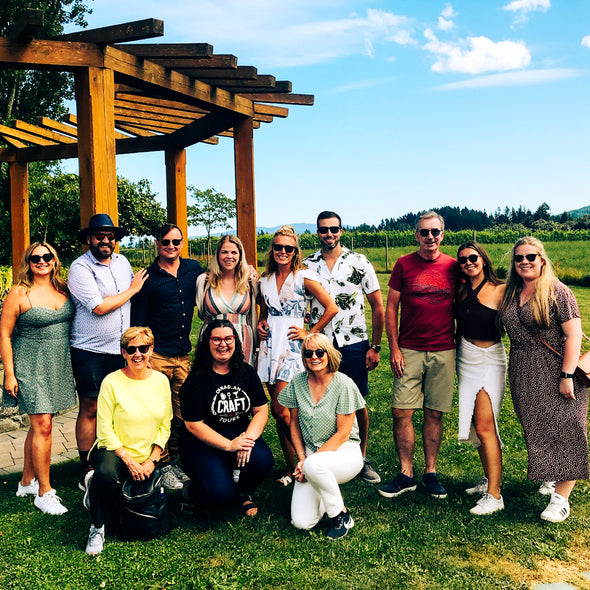 Cowichan Valley Wine Tours
Book Now for an Unforgettable Experience!  Private Tours are available for pickup from Victoria, the Cowichan Valley and Nanaimo.
Embark on a 5.5-hour tour of the heart of Vancouver Island's wine country - Cowichan Valley. Join a public group or schedule a private tour for a day filled with wine tastings and behind-the-scenes winery tours. Canadian Craft Tours is rated "excellent" by 500 travelers on TripAdvisor and Google and voted top Victoria tour on both Facebook and Tripadvisor.
Public Wine Tours: Daily (See Calendar) Private Tours: 7 days a week by appointment. Contact us in advance to book.
What is Included in My Cowichan Valley Wine Tours?
Your tour includes:
A knowledgeable tour guide with in-depth knowledge of the Cowichan Valley wine route
Behind-the-scenes tour at one of our local winery partners (Unsworth or Enrico based on availability)
Private tastings for the group with at least 15 wine samples
Round-trip transportation from downtown Victoria in our 14-passenger van
Water to minimize dehydration (please bring a reusable bottle, glasses can be provided at tastings)
A light lunch
Custom pickup and drop-off location for private tours
Cowichan Valley Wine Tour Schedule
Below is a Sample Schedule From Victoria.  Cowichan pickups start in time to be at the first winery for 11am arrival. 
9:45 am - Registration begins at 660 Oswego St, Victoria, BC. Meet in the passenger loading zone (custom pickup for private tours) 10:00 am - Leave for Enrico Winery 10:40 am - Lookout photo stop at the peak of the Malahat 11:00 am - Enrico Tasting and light lunch* 12:15 pm - Leave for Blue Grouse or Cherry Point 12:30 pm - Tasting at Blue Grouse or Cherry Point 1:30 pm - Leave for Unsworth 1:45 pm - Behind-the-scenes winery tour at Unsworth (group choice of Vineyard or Bottling) 2:15 pm - Tasting at Unsworth 3:00 pm - Leave for home 4:00 pm - Victoria hotel drop-off
Canadian Craft Tours is Canada'a Largest Wine Tour Operator
The wine tour specialists at Canadian Craft Tours have carefully planned the perfect schedule for your group to enjoy each unique winery in the Cowichan Valley. We schedule tastings days/weeks in advance to ensure a seamless and enjoyable experience. Our groups are front of the line, so you won't have to wait in long lines during busy times.
Let us show you the beauty of Cowichan Valley for your next special event in Victoria. Book now and raise a glass to an unforgettable experience!